"The last two decades of the last century and the early years of the present one marked a period of significant changes for Bergé y Cía, during which the automotive sector played a pivotal role."
Under the leadership of Juan Gorbeña Mazarrasa, who was appointed as president in 1992, Bergé y Compañía took a significant leap forward. In 1983, Bergé Auto was established, the automotive division, which began distributing the Toyota brand in Spain in 1984.
Following these developments, other brands like Chrysler and Hyundai joined, alongside luxury names such as Ferrari, Maserati, or Bentley. The company also expanded into the Portuguese market. As the century turned, a pivotal alliance emerged: SK Bergé, the joint venture with the Sigdo Koppers Group, marking the company's entry into Ibero-American markets like Chile, Peru, and Argentina, which have been of great significance for the company.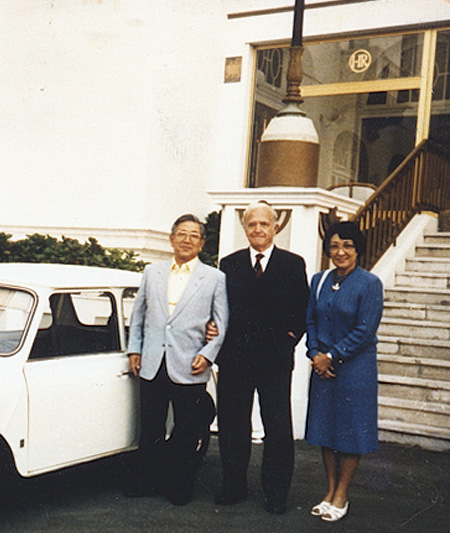 Ramón Gorbeña Renobales with Shoichiro Toyoda (President of Toyota Motor Corporation) and his wife, 1995. Historical Archive of Bergé y Compañía.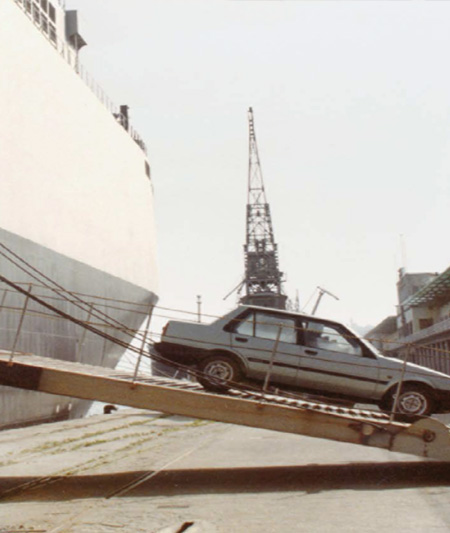 First Toyota car disembarkation at the Port of Barcelona, 1983. Historical Archive of Bergé y Cía.
Alongside the automotive sector's growth, several significant milestones took place. This included the vertical integration of maritime and land transportation, as well as vehicle logistics. An alliance with the Cox Group led to the establishment of Manheim España, a used vehicle auction company. In 1989, Cofiber Financiera was founded to provide financial products for Bergé Auto and its dealer networks. The company also entered the renewable energy sector through the acquisition of Isofotón in 1997. Additionally, Serdetec was formed to manage Bergé y Compañía's investments in new technologies.
This marked the transformation of Bergé y Compañía into a holding company, with investments in a wide range of businesses, while it still actively participated in the management of its subsidiaries.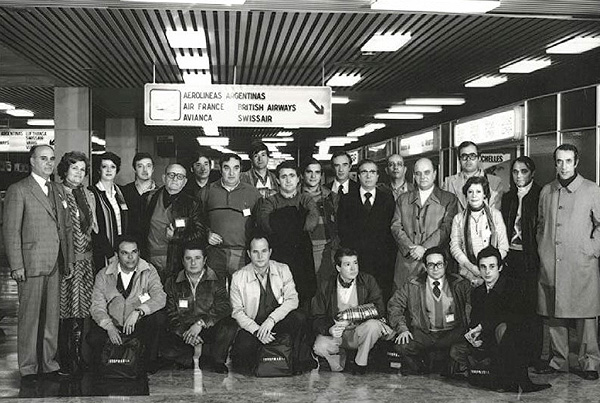 Trip of Toyota forklift dealers and distributors to Japan, March 1981. Historical Archive of Bergé y Cía.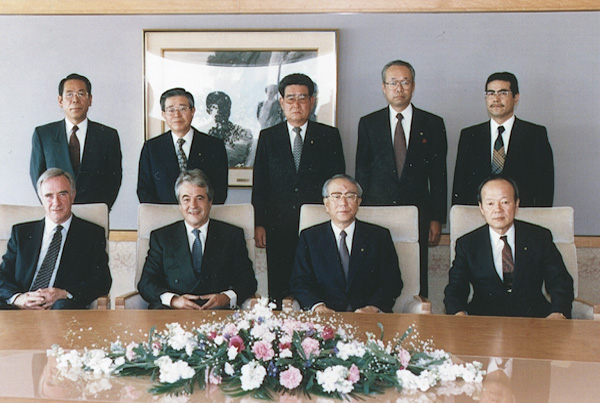 Juan Gorbeña and Leopoldo Pérez de Villaamil with Toyota executives after the signing of Toyota Motor Corporation's entry as a minority partner in 1992. Historical Archive of Bergé y Cía.